The lamestream media told you:

Nothing. Guns are bad. People killed each other.
Murderers are "gunmen" and here's their pictures.

The Uninvited Ombudsman notes however that:



Second Effort to Censor "Guns Save Lives" Abandoned!



"GUNS SAVE LIVES" BUS STOPS ARE BACK



400,000+ Views Per Week
Signs scheduled to run through 2016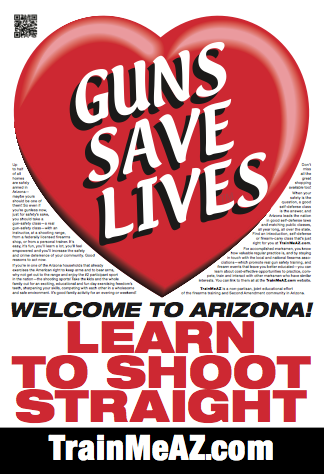 It's a small voice against constant distortion about the truth of guns in America.

A positive message about firearms, and the lives private guns save, is making it out to the public on a daily basis on bus stops around Phoenix, Ariz.

A new effort to censor the message was defeated, on top of the First Amendment lawsuit that stopped city officials last time, when they tried to suppress the message when it first appeared in 2010.

In attempting to quash the new ads, which are similar to the previous ads, city lawyers claimed this promotional sales text for gun-safety training was objectionable and could not be used:


"Arizona leads the nation in good self-defense laws
and matching public classes, all year long, all over the state."
Text the city sought to censor


The line is part of the small text surrounding
the heart, designed and intended to compel people
to sign up for classes at any time and in any place.

According to the leading firearms newsstand magazine, Guns and Ammo, Arizona has been rated #1 for the best gun laws in America for the third year in a row. Tense communications and the painful memories of four years of losing litigation last time convinced the city's censors to back off and let the ads run.

"News reports flood the public with stories of murder and mayhem caused by criminals," said TrainMeAZ project manager Alan Korwin, who arranged to have the bus shelter ads posted on behalf of a broad industry coalition. "All we want to do is get the word out that guns are good, honorable and deserve respect, and so the public should get training and education, which is just true common sense." Guns save lives, stop crime, protect people, and help keep America free, he says, reiterating what so many people already understand.

This is reflected in the facts, for example, America has more firearms per capita than any other nation, but is only 111th in per capita murders, according to Wikipedia (stats from the U.N.), a fact obscured by news reports. https://www.youtube.com/watch?v=pELwCqz2JfE

"The 'Fourth Estate' is practically a 'Fifth Column' when it comes to defending the right to arms built into our Constitution," said one mother of three, who refused to be identified, when asked at a local gun store. She was shopping for a .22-caliber junior rifle for her teenage son for Christmas.

See the bus signs yourself here:

Eastbound Cactus Rd southeast corner at 42nd St.
Eastbound Indian School Rd southeast corner at 3rd St.
Westbound Deer Valley Rd northwest corner at 7th Ave.
Northbound Tatum Blvd northeast corner at Hearn Rd.
Westbound Dunlap Ave northwest corner at 7th Ave. (for Gun Rights Policy Conference)