2017 SHOT Show
The biggest trade show on Earth, for the #2 participant sport in America, the shooting sports, a constant gold-medal winner at the Olympics, all but ignored (or vilified by the lamestream media. It is no wonder the new president calls the media fake news. They are. They do nothing but vilify the very thing that keeps Amerians safe, gives them pleasure, and keeps the free world free. The tiny percentage of evil, ghettoized miscreants who wreak havoc on themselves and others, are ignored in large measure by authorities, and are promoted on front pages to sell audience size by corrupt reporters and editors who are now among the worst enemies of freedom our nation faces. Journalists can't see it, don't understand it.

The show this year, as in past years, exhibits the latest greatest gear and advancements in self defense, military and police weaponry, accessories, open only to the trade, like other professional trade shows.


Even walking is tricky with more than 100 countries represented and nearly 65,000 people in attendance at the SHOT Show, a truly international event.


The Press Office (nice digs, huh?) is always a place for making new friends 
and valuable contacts, I spend a lot of time there, with 2,500 other members 
of the trade press. Attorney Lara Smith is the national spokesperson for the 
California based Liberal Gun Club -- who knew there was such a thing? Turns out liberal is not a monolithic thing, with awareness alive in some spots. 
A growing interest in sound Second Amendment principles is developing 
and it bodes well for freedom, people who own and fire guns, "get it." 
With liberals starting to fear their government, and asking me how to arm, 
how long will it be before Glock and Colt start to advertise in Rolling Stone. It's a monumental and untapped market for hardware, training, education.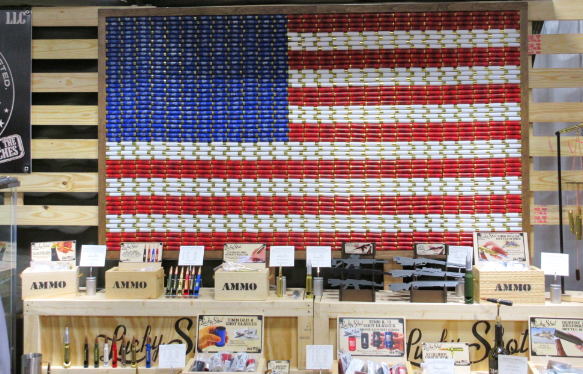 A flag made from shotgun shells speaks for itself, a real eye catcher.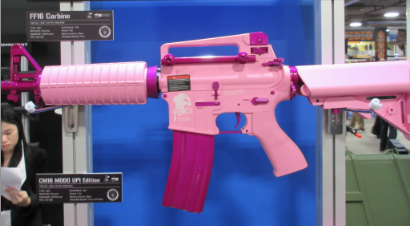 Call me square, I don't get this. There's a mud flap babe in white on the mag well, a little hard to see. Guys buy it for their women? Women buy it for themselves? Overheard: "I wouldn't be caught dead with one." Interesting irony that, no?



Similar question -- camo with candy pink straps? Who's the appeal? Girly men? Women who don't understand camo? Halloween? Gag gifts? The LGBTQ1A queer questioning
non-hetero non-cisgender
intersex community? Apologies Mossy, I had to get that out. Nice bags. Everyone already knows you make good stuff.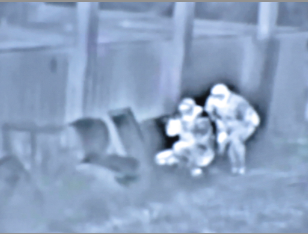 You only think you're crouched low and hiding if the other guy has telescopic night-vision optics. A still frame snapped from a video. The surveillance gear on display was terrifying (for the civilians) and mouthwatering for the warrior-types in the crowd, plenty of both. You only think you're armed if the other guy is armored.




Loads of celebrities at every turn, here VISTA Outdoor Media had four top competitive shooters on a panel taking questions from an audience, transfixed by their knowledge, experience, comfort in front of a crowd -- these folks knew more about guns, shooting traveling to compete, it was hard to tear away and see the show, which is too big to see in its entirety anyway.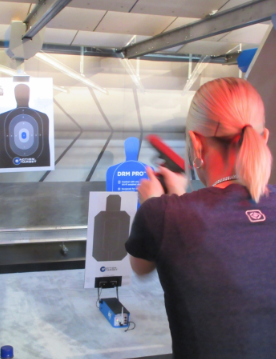 Best illusion of the show -- this indoor range used to demonstrate a target system is basically a flat piece of paper. Yup. The rails over the woman's head terminate at the screen and hold the target carrier. The whole thing is the depth of a regular booth, give or take, and that's a non-firing pistol. One of the most innovative displays I've ever seen, from Action Target in Utah, who had a lot of other goods spread out.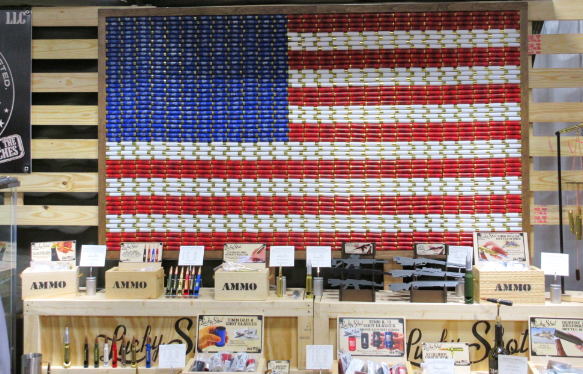 Radio Row was packed on the first floor with national and regional talk show hosts, live during the entire event. Here's Lars Larson and his finger-pointing producer Carl Sundberg --  
we promised each other we would make time for a short segment but it didn't happen before he was off air. SHOT is so overwhelming far more gets promised than gets done, and you still get back to your room each night exhausted with a ton of leads and done deals. I didn't count how many interviews I gave, got buttonholed, scheduled some, set up some for after the show, still have some planned. Hey Lars, let's do it!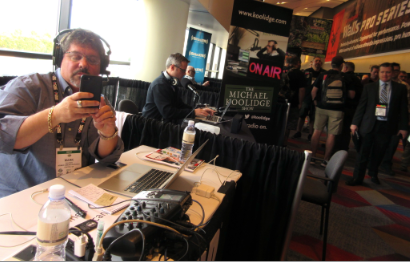 Wise-arse Mark Walters, on air in 200 cities with Armed American Radio, captured my soul as I captured his -- one day I want to stage this and do it with 15 people
simultaneously -- what an image that would make! Mark had me on right after some impossibly tough act to follow, was it Hugh Hewitt? Who can remember, it all becomes a blur.



Dana Loesch had prime space on Radio Row for The Blaze.



In the show-stopper product category:

BIG GUN NEWS: When Congress restricted intermediate capacity drum-fed shotguns under Bill Clinton they did it by name -- the Street Sweeper, Striker-12 and USAS-12. The government basically said tell us you have it, and pay us for each one, or it's banned. Fail to do so and we can send armed agents to get you and put you in a cage for years.

It was such a stunning affront and infringement that no one thought about defeating the abuse, we just sat back and took it (effective 3/1/94). These arms were classified as NFA destructive devices and required registration with BATFE. You're looking above at a 25-round shotgun drum that will fit magazine-fed shotguns, perfectly legal, made by SGM Tactical in Knoxville. Freedom always seems to find a way.

The SHOT Show wouldn't be the same without a healthy amount of eye candy. There was a grab bag to choose from. I just grabbed one to share. Have a nice day.