"Guns Save Lives" Speech Ban Is Officially Dead
And We Add Half Million Extra Viewers Per Day!
 1. At 12 midnight going into Saturday July 28th, the deadline for any appeal by the City of Phoenix passed and our victory in the censorship case became final.
2. Squeaking in just under the wire, the City of Phoenix filed a petition for review just before midnight on Friday, July 27th, prolonging the final outcome on whether or not we are free to say "Gun Save Lives" on Phoenix bus stops the way we want to in our paid advertising, to advance gun safety and marksmanship training. 
well... It's the first one. It's done. We won.
Right. I had to sweat out that deadline all this time.
Now maybe you have a little taste of what that was like.
You probably didn't even know. 
In honor of this final disposition, and for the 4th of July, and to coordinate with a big national news break I can't tell you about yet (!) -- we're adding 500,000 viewers a day to the Guns Save Lives campaign in Phoenix. Ten new locations around the city will sport both blue and red TrainMeAZ signs, 6-feet high, at street level, all illuminated until midnight, throughout July. That brings us to one million impressions every day.
If you're a firearms trainer in Arizona, sign up for a free listing, thanks to the firearm-industry sponsors who make this public awareness campaign possible.
The public is always welcome to use the TrainMeAZ resources for trainers, ranges, retailers, get the Where-To-Shoot GUN MAP or the statewide Arizona Firearms Industry Directory http://www.gunlaws.com/afid.htm
Get smart --
AVAILABLE FROM TrainMeAZ:
(Click images for more info)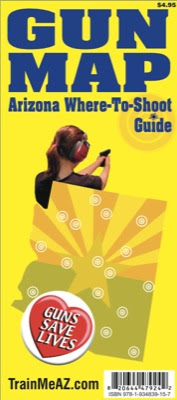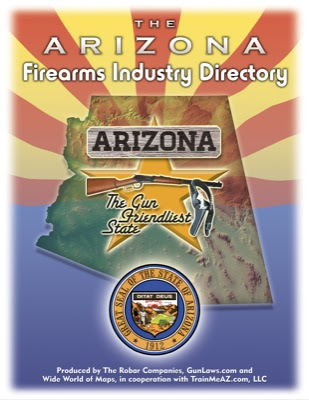 http://www.gunlaws.com/GunMap.htm • http://www.gunlaws.com/afid.htm