Virginia Gun Laws on the Move
Anti-rights bills defeated, good bills alive

A few good bills have died unfortunately

The lamestream media told you:

Nothing, as usual. A bit of lamenting has appeared in the lamestream, ever since Hillary's plans to confiscate and destroy the public's firearms—the Australia plan she and the entire democrat party touted before her campaign crashed and burned—but positive news about guns and gun laws remains heavily suppressed as always. Heavy losses at federal and state levels has not changed the media. They remain as biased and twisted as ever.

The Uninvited Ombudsman notes however that:

The Virginia Citizens Defense League -- a national leader in how gun-rights are done at the state level -- are on the march and have moved the ball down the field. From their latest report:

VIRGINIA GUN-CONTROL BILLS ARE ALL DEAD!
https://www.vcdl.org/
First piece of good news is that we've managed to either kill or neuter all of the 37 gun-control bills that were introduced this year! [Take note -- legislators who are supposed to protect and defend the Constitution have introduced 37 bills to cut off or limit your right to arms. Criminals are unaffected by the new bills, because guns are already completely outlawed for criminals, a point always omitted in "news" reports. Alan.]

GUN-RIGHTS BILLS THAT ARE STILL ALIVE

* Blocking CHP information being shared with states that don't honor VA CHPs

* Legalizing switchblades

* Circuit Court Clerk to email notice of expiring CHP to permit holder

* Active duty or honorably discharged military under 21-years-old can get a CHP

* CHPs can be either laminated or plastic

* Protective orders become a temporary CHP for the person being protected

* Victims of certain crimes, such as domestic violence, can get free firearms training

* Gun owners cannot be disarmed while in an emergency shelter

* A photo ID must be provided when applying for a new CHP or renewal, but the application will no longer need to be notarized

* For a CHP address change, no proof of new address will be required any more

* Limited immunity when reporting an act of self-defense using 9-1-1

* Restoration for firearms rights for a person who had been adjudicated mentally defective, but no longer lives in Virginia

* Foster care parents can legally have a firearms on their person while at home

* Gun owners who vote in polling places that prohibit guns can vote absentee

* State law on "restricted ammunition" updated to take into account modern ammunition technology

* Possession of antique/black powder firearms by non-violent felons for purposes of hunting or recreational use legalized

SOME GOOD BILLS DIED, TOO

* Constitutional Carry

* Restoration of legal fees for a person who was involved in a justifiable use of self-defense

* Codification of church carry (pulled by patron)

* Sales tax exemption for purchase of a gun safe

* Income tax deduction for purchase of a gun safe

* Reduction in CHP fees

ARIZONA'S CITIZENS DEFENSE LEAGUE (AzCDL) ON THE MARCH

Arizona's activists are following no less than 30 bills of importance to gun owners. Read a summary of each, the actual language, support/oppose ratings, and join the easy effort to win or lose here: http://www.azcdl.org/html/bill_tracking.html

Of these bills, 11 are harmful to our rights, a few need to be watched, and the balanced would be good for us, controlling the authorities, protecting our rights, preventing monkey business with the ballot initiative and referendum process. Those citizen initiative tools are the latest in the gun-rights struggles. Billionaire anti-rights zealots Soros and Bloomberg are using their wealth to sway popular opinion regardless of facts, pay enormous sums to gather signatures, often under false pretenses, and push through policies legislatures and the federal government would other wise never pass.

Do not underestimate the power of bad people with bags of money and an agenda to make the public subservient to their armed will. They want you disarmed, but they stand protected by walls of armored heavily armed troops. For safety.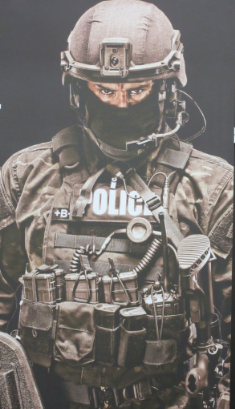 This might be OK for our military,
but it has no place in civilian police forces.
When political elites want you disarmed,
but this is what they have instead of police,
you know in your heart something is wrong.
You only think you're armed
if the other guy is armored,
defeating the 2nd Amendment entirely.

What do you think people living in
"communities of color" think of this?

IMAGE FROM SHOT SHOW 2017