Sharpton, Jackson, NY Times, Community Organizers Say NO!
But blacks are arming themselves.
Just like white folk do.


The lamestream media told you:

Guns are bad. No one should have them. Well of course police should have them.
You trust the poe-leece, don't you?

The Uninvited Ombudsman notes however that:

The anti-gun movement is a function of the liberal left, which includes the famous "leaders" noted in the headline above.

If black leaders had their way, blacks would be disarmed (along with you). Guns are too dangerous. You'll hurt someone. Chances are greater that you'll hurt someone if you have one. Leave your safety up to the police (!). Underlying message -- you're too stupid to safely have a gun. Don't do it. Ignore 100 million neighbors who manage to safely do it somehow. Choose fear.

We leaders on the other hand, the ones bringing blacks this message of fear and danger, we can have guns (and that includes the headliners, bristling with armed protection). We, the authorities. We in gated communities and nice neighborhoods and we keep them that way. You don't need no gun. But we ain't exactly givin' up ours. Oh no.
Bottom line, when you strip away the Emperor's clothes, black lives don't matter, coming from the leaders of the democrat movements, who would ban guns for blacks, and gays and women and all the oppressed classes -- because they would ban guns for everyone. Except the people in power -- themselves. If that isn't unequal treatment under the law nothing is.If black lives really mattered, there would be 700 murder trials for the 700 black murders Chicago experiences in a year. I can hearing you laughing. In your heart you know it's true.
Blacks are catching wise. A growing movement is spreading the message behind the Second Amendment. A two-edged sword? Of course. When you learn that peace and freedom are attained through a balance of power, and not the power of one group over another, you can reconcile it all. White folks have -- we're well armed and that's why we don't shoot each other. So look what's happening (virtually absent from mainstream anything):


Black women gun training
Marchelle Tigner, in Savannah, Georgia, runs the first Atlanta-area class for black women to learn to shoot. Nov. 2016
https://www.theguardian.com/world/2017/apr/27/black-women-guns-classes-racism-trump

Trigger Happy Firearm Instruction
Tiffany Ware, 44, Cincinnati, founder of the Brown Girls Project, which offers makeup workshops and other activities for building self-esteem in young black girls  -- has organized a group of black women for a firearms training class on 18 December. 
Black Women's Defense League
In Dallas, the Black Women's Defense League, launched in 2015, has seen the number of black women signing up for time at local shooting ranges at least double in the past 10 months or so.

Nicholas Johnson, law professor at Fordham University and author of Negroes and the Gun: The Black Tradition of Arms, pointed to a 2014 survey showing that 54% of black people felt that owning guns did "more to protect people than endanger personal safety", nearly doubling the 29% who said the same two years earlier.

Here is truth you won't find elsewhere --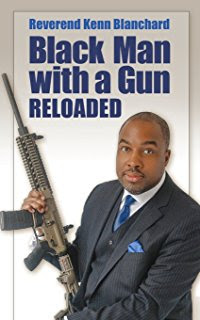 Black Man with a Gun
by Reverend Kenn Blanchard, 172 p., $16.95