DESTROY THIS STATUE!
A statue that really needs removal.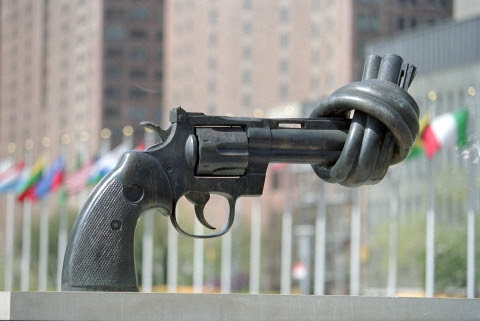 UNITED NATIONS PLAZA, NEW YORK CITY.    Don't worry, it's small.
An insult, not just offensive, to the Bill of Rights!
It has no place on American soil.
"Denial of rights guaranteed to the people by the U.S. Constitution."
Argue about other statues later - this one affects every American...
"Tear down that coil!"    
"It is not art, it's a finger in freedom's eye."

The U.N.'s website describes it as "a giant Colt Python .357 Magnum revolver."
Every image I could find online shows it "as big as a house" (my wife's estimate, based on looking).
Couldn't even find a measurement online. This is how anti-rights efforts work.

I was there. It's revolver size. Yup, revolver sized. I was stunned. I expected to be dwarfed by it.
Just another lefty lie. I still don't have an image that shows perspective, searched too long, gave up.

"On the 2011 anniversary of the death of John Lennon,
fellow former Beatle Ringo Starr urged musicians to join
The Non-Violence Project..." (the statute was created related to this).

INVITATION
"I'm inviting Ringo, whose work I grew up with and adore, to a discussion of non-violence, and especially the non-aggression principle, so we can arrive at an intelligent common understanding of the difference between a knotted gun, a real gun, the tyrants behind the walls of the U.N., the possibility of peace on Earth, and real symbols of peace, like smiles, flowers and sunshine. C'mon Ringo, take me up on it, musician to musician."   --Alan Korwin
AND IN THIS NEWS:
JPFO, BELLEVUE, WA -- In the midst of the national frenzy for 
removing offensive symbols
, many with controversial but historical significance, a Jewish civil-rights group is calling for destruction of the United Nations anti Second-Amendment-rights statue set in the heart of New York City. President Trump just visited the U.N. to emphasize the importance of sovereignty—our national rights.
A Bill of Rights and civil rights affront:
In its official statement, Jews for the Preservation of Firearms Ownership, 
http://www.jpfo.org
 said:  
"This statue is a grotesque assault on the most fundamental tenet of the U.S. Bill of Rights, plus the basic civil and human right of Americans and all people to protect themselves from harm—and the kind of evil lurking in U.N. headquarters itself.
The statute must be seen for what it is, and expunged.
It is not art, it's a finger in freedom's eye."


"JPFO supports non-violence but that's not what this is. The pretzel gun denigrates every legitimate role firearms play in preserving peace, freedom, prosperity, deterring enemies, stopping crime and the jihad, providing food even at subsistence levels for the poor. In short, it is a statist abomination," according to Alan Korwin, an author and consultant to JPFO.

"It conveys little notion or implication of disarming the horrific denizens of the U.N. and tyrants who rule much of Earth's population," he says. "Such a misguided affront to our heritage, history and constitutional guarantees springs from ignorance. It has no place on our soil." JPFO suggests moving it to a Human Rights Council nation like Iraq, Myanmar or Saudi Arabia, or perhaps communist China or Africa is appropriate, anywhere but the land of the free and the home of the brave, where real guns keep the violent at bay.

Rather than moving the six-inch bronze, typically imaged to look huge, melt it down for ammunition, as penance for the long-standing humiliating constitutional insult. Peace symbols are like flowers, feathers, doves, sunshine, hearts and water, not guns, JPFO says.

 
Peace symbols are like
flowers, feathers, doves,
sunshine, hearts and water,
not guns, JPFO says.
The lamestream media told you:

Fascist demonstrators, some calling themselves antifascists, clashed in Charlottsville over the removal of GENUINE historical monuments, leading to violent clashes. In one incident, a car plowed into a crowd and a woman was killed.

The fascists supporting preserving the GENUINE historical monuments included Ku Klux Klansmen, Nazis, White Supremacists, and others. Among the fascists advocating removal of the GENUINE historical monuments were Antifa, Black Lives Matter, the Occupy movement, and others. Both sides were armed with at least crude impact weapons and wore threatening clothing.
The lamestream failed to mention or played down the fact that these were GENUINE historical monuments, both sides were fascistic (they only called the White side fascists), and surprisingly, no moderates were willing to come out argue that, "tearing down long-standing monuments in a political wind is unAmerican and emblematic of how ISIS muslim terrorists operate." Regrettably, White fascists stood alone on this point, although probably for different reasons.
Subsequent left-wing demands for tearing down monuments includes, among too many to name, removing Thomas Jefferson's statue from the University of Virginia, which he founded. Jefferson wrote The Declaration of Independence.

The Uninvited Ombudsman notes however that:

Far left-wing organizations and politicians are calling for gun bans, using the car death of one woman in a vehicular homicide at a political rally as an excuse.

Leading the move is the radical ACLU, which has announced it will not defend any demonstrators who bear arms, regardless of their message. City councils and others are seeking to ban people in public from bearing arms, during demonstrations and at other times. Legal grounds for such actions do not exist, and fall under the constitutional prohibition of infringement. Denial of civil rights under color of law is a federal felony, though it is largely unenforced:
18 USC § 242. Deprivation of rights under color of law.
The Gist: Anyone who, under color of any law, statute, ordinance, custom or regulation, willfully deprives any person of any rights, privileges, or immunities secured or protected by the Constitution or laws of the United States, shall be fined, or imprisoned for up to one year, or both.