ISN'T IT BETTER TO KILL THE MURDERER?
The lamestream media told you:

All these crazed permit holders carrying dangerous loaded semi-automatic handguns that spray bullets are nothing but bloody danger waiting to happen on our streets. The whole idea is just a gun-lobby scheme to sell more guns and make the gun manufacturers richer at the cost of our children's lives. If it was legal we would have the whole batch of them lined up against a wall and shot, which would be a good thing, they are just devil's pawns, if the devil was real.

The Uninvited Ombudsman notes however that:

As gun owners know, CCW-permit holders are in the smallest demographic group for the commission of crime of virtually any ambulatory group of Americans. Self-educated and supremely conscious of the dire ramifications of using firearms in any situation, they are extremely reluctant to draw a firearm and use it unless it is absolutely necessary and justifiable. So-called news-media experts didn't get the memo.

Firearm trade magazines carry regular columns detailing the common and righteous use of firearms in self defense, and though these typically include stories where the gun-owner was completely in the right and may even end up vindicated at the scene, we all know this is frequently not the case. Long, protracted court cases, expensive lawyering and unknown results hang over any use of firearms in a public setting.

Yes, it's better to be alive, but: "It's always better to avoid a gunfight than to win one." Now there's a bit of wisdom you will never see in mass media, even the fair-and-balanced station, for reasons that were unclear at press time.

It's common for gun owners, after experiencing self defense, to obsess about why they were caught in the grinder in the first place. Coulda should woulda may interfere with sleep, work and play. Avoidance is the ultimate self defense and "PreFence" addresses that in scores of ways most people have never considered.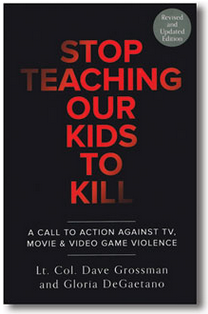 A veteran of the armed forces, national defense and private security, author Grossman, and DeGaetano, detail ways professionals keep their clients out of harm's way before harm appears. You should too. You should not be there in the first place.
"If you're reaching for your gun you've already lost."
Learn how to remain miles away from where you might need to shoot your way out of a bad spot. Even if you don't have to shoot the bad guy, being anywhere near that is being in the wrong place at the wrong time. I cannot recommend this piece of self-defense ammunition enough.

If you suspected this was going to be about killing mass murderers caught in the act, that's a complex question you can write to me about. Your chances of running across that are slim. What action authorities should take as a matter of policy is a separate question. Different rules and principles apply.