Communist China
If newscasts don't stop calling
COMMUNIST CHINA simply "China,"
the communists could beat us.
It may be the most important battle of America's life.
The battle for your mind, literally.
Our enemies could beat us without firing a shot.

You will not know you have lost until you are enslaved.
They are succeeding in turning us against ourselves.
It is subtle, and deadly.

National Public Radio is now advertising (they call it "news") that something called "China" is stealing our hi-tech for 5G technology. Look up 5G if you care, it's the future of everything, so far beyond your 4G cell phone that you already can't live without now.*

But China isn't stealing 5G. Communists who rule that brutal dictatorship with an iron fist, they are.

Because communist China is so far behind as a nation, they can only catch up by stealing technology from us. All the media focus on Russia (also a communistic-type dictatorship) helps hide what the communists in China are doing.

By manipulating language you are being brainwashed. "We will bury you" is happening before your eyes, with simple words that hide the truth and mislead you. It hurts to say this, but our own democrats, now largely socialists, are complicit. The so-called "news" media has sold out almost completely. Communist China has a 40-point plan to take us over, actively underway. What, you haven't heard about it?

Not long ago, the "news" spoke of the the Red Chinese, Communist China, the Chicoms, our MORTAL enemies. They were and still are among the greatest threats we face.

Nothing has changed, except for cover our own media is giving them. Brainwashing -- a tool they invented and viciously used during the Korean War -- is fully at work here, in its improved softer version. It has captured the media, the education establishment, a large chunk of Congress and too much of the public. Many of us can see it, too many cannot.

The "cultural revolution," which is never properly explored here, is an effort by the Chicoms to wipe out China's glorious artful and militaristic past history and replace it with the new communist distorted rewrite of history.

The exquisite musical theater Shen Yun is based on China's splendid 5,000-year cultural history, with music, costumes, dance, poetry, theatrics and love stories, the ones the Red Chinese want to obliterate and erase from history.
BANNED IN CHINA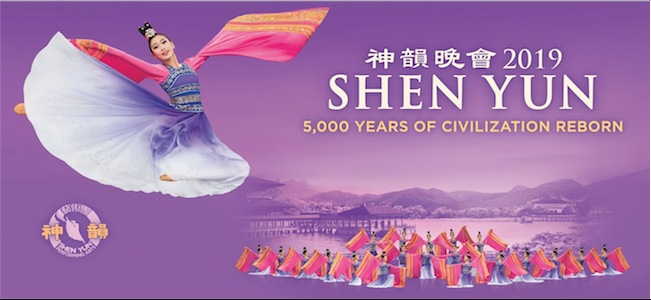 Shen Yun plays worldwide to packed audiences. But not in communist China. In communist China it is banned. If the theater company (now five full traveling troupes) sets foot there, they will be arrested, and disappeared. Shen Yun was assembled and performs to preserve 5,000 years of cultural history of this formerly great land the current dictator-for-life wants destroyed. Calling that man "president" is a travesty, a violation of every ethical guideline journalism has.

Any American news outlet that goes along, or refuses to call this despotic tyrannical regime anything but communist China and a dictatorship, should lose its advertisers and audience. They are poisoning your mind and providing material support to an enemy of the United States.
Communist China's money --
featuring history's worst mass murderer: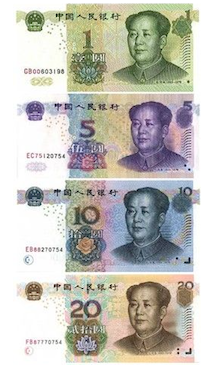 Remember: communist China features the world's worst mass murderer on their currency (and buildings everywhere). This reminds the enslaved population of what awaits them if they act out of line. Nobody tries to emigrate to this "great land." Political prisoners, even parents who exceed the enforced baby limits, are murdered, concentration camped, or simply disappeared.

Our tech giants have agreed to operate there, under totalitarian limits. Shame on them. You think they're screwing with us here? Imagine what they collect and transmit to the overlords in commieland.

*Blazing speed gets talked about but it's not really here with 4G. It's 5G that's so fast it will link your "secured" home to the supermarket, your car, your workplace, run traffic control and autonomous cars, monitor your health and link it to hospitals, your doctors and your medical chart and insurers, control your entertainment centers and smart speaker (monitoring equipment), all your devices, trash collection, web everything... society is about to become one enmeshed totality under 5G. Cool or total control? Communist China wants to control it, right now we do. It's time to stop calling them "China." The Chicoms are back.