GLAAD not the only one miffed

People jailed, even dying, over tongue slips

When the world exploded over a few things Phil Robertson of Duck Dynasty said, it overlooked hundreds of others that have gotten people arrested, fired or even killed, as free speech has lost its protective value in the past few decades, according to a book that carefully documents the loss, Bomb Jokes at Airports.

"Sure, saying Merry Christmas could get you fired," says the book's author, Alan Korwin, who has written 14 books, including Bomb Jokes at Airport--and 186 other things you better not say, about the limits of free speech. "But revealing that our own government is supplying guns to Mexican drug lords, or that the NSA is spying on all of us can force you into hiding, just for speaking truth to power," and it gets worse, he says.

Korwin was censored by the city of Phoenix recently for saying "Guns save lives," in a case that made national headlines (NY Times, USA Today, FOX News, Capitol News Service). "Why should we be burdened with such messages," was the city's position, as the case went to the Arizona Court of Appeals, and may go all the way, with the ACLU as an amicus to the Goldwater Institute's defense of Mr. Korwin's right to make statements some politicians would prefer to suppress.

Bomb Jokes at Airports looks at more than 200 people, some of them murdered, many arrested, bankrupted, ruined, suspended or just humiliated, for saying things that met with disapproval, and were no longer protected under the classic belief that, "It's a free country and I can say what I want."

It's a common misconception that the First Amendment only controls the government. While it's true that tremendous legal protection attaches to political speech in an official context, popular opinion and court precedent firmly recognizes broad protection for a "court of popular opinion" protection for Americans to speak their minds freely without fear of reprisal or criminal prosecution.

This has eroded in recent years as the "angry gay" community, "aggressive racism" community, and other "offensive" political correctness groups have organized to act collectively to suppress speech, making many average citizens terrified of speaking freely or even telling jokes. Although federal prosecutors have been slow to act, conspiracy to deny civil rights is a serious federal crime that can include the death penalty (18 USC §241 et seq.) College campuses have limited candid political talk to "free speech zones," with certain types of open dialog on "politically incorrect" topics virtually banned by "speech codes."

Bomb Jokes at Airports, with hundreds of examples (the book stopped changing its title at 186) is available for review on request to legitimate media outlets. Retail copies are just $19.95. It is a stunning, sometime hilarious, sometimes terrifying read.

[email protected]
1-800-707-4020
See all of Alan Korwin's books:
http://www.bloomfieldpress.com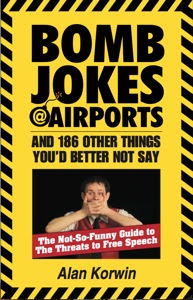 BOMB JOKES AT AIRPORTS --
And 186 Other Things You'd Better Not Say
http://www.gunlaws.com/BJAA.htm




352 pages, only $19.95 +S&H



Things you can't say anymore? LIKE WHAT?

"Are you married?"
Muzzled during job interviews by the EEOC, federal law
It's an "illegal question" says The New York Times

"Apartment for rent with picture window, walk-in closet."
Muzzled in newspaper ads by the FHA, federal law

"Tart cherries are good for you."
Muzzled in advertising by the FDA, federal regulations

"That's so gay."
Muzzled in public schools by the California Supreme Court

"How many roads must a man walk down,
before you can call him a man."
Muzzled by NYC school administrators and textbook makers

"Vote for John McCain."
Muzzled in broadcasts within 60 days of an election
by the McCain-Feingold campaign reform act

"Guns are good."
Muzzled by policy at mainstream newspapers in America

"Guns save lives."
Muzzled by policy at TV networks and their affiliates
Muzzled by the City of Phoenix (currently in litigation)

"Merry Christmas."
Muzzled at department stores by political correctness

"Ho ho ho."
Muzzled by Al Sharpton after Don Imus said, "nappy headed ho" (context dependent)

"Is the jury aware they can acquit me if they think the law is bad?"
Muzzled by judges who don't believe in fully informed juries

"Are you in this country legally?"
Muzzled by sanctuary cities that keep their police on a tight leash


American free speech is reaching the breaking point where any
politically correct or diversely foolish idea muzzles your right to freely speak.

"Korwin's latest book is a stunning, frightening look at how weak free speech is getting.
His plan to use federal 'anti-muzzling' statutes to fight back makes sense."

Read the book.